Check out this Tarpon caught in the beginning of the season and Scott's largest fish of his lifetime!  That smile says it all!!
It's the beginning of May and that officially marks the beginning of the Tarpon season in the Tampa Bay area. If you have not had the chance of experiencing the Tarpon fishing here then you are in for a wonderful surprise. Everybody that fishes for Tarpon knows about Boca Grande Pass and its considered the Tarpon capital of the world but what most people don't know is our Tarpon fishery is just as good as Boca Grande with less pressure put on the fish because there's not as many boats in the water trying to catch them.
We typically target tarpon throughout the months of May, June, July, and August and my absolute favorite way to target them is when they are running the beaches near Pass-A-Grille, St. Pete Beach, Treasure Island, Madeira Beach, Redington Beach, Indian Shores, Indian Rocks Beach, and Clearwater Beach. When the waters are crystal clear we will sight fish the large schools that run the beach by using our Minnkota Ipilot trolling motor to sneak up on them and then will cast live bait like mullet, threadfins, crabs, pinfish, whitebait, shrimp, etc. at them. Depending on the tide sometimes we will drift fish for them in Tampa bay using similar live baits as we would when running the beaches.
The ideal times to fish for these fish are during the "hill tides" that happen before, during, and after the new and full moon during the months of May, June, July, and August. Since these tides do not last all month it is recommended that you book your Tarpon charter as soon as possible because these dates will fill up fast.
If you would like more tips and help catching fish in the Tampa Bay area call Capt. Zack at 727.656.2373 and book a charter today!!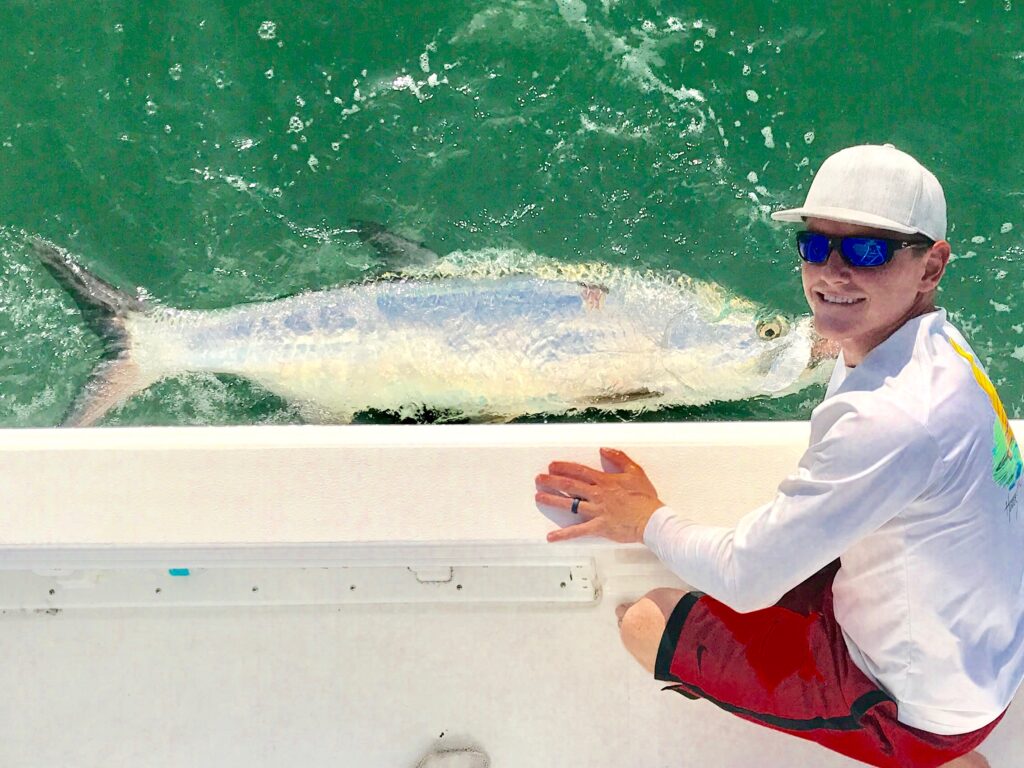 The first tarpon boated this season in early April! The bite is only going to get better as the waters warm up